Deployment Guide LTI 1.3 - Dynamic Registration
This document shows how to add Annoto to your D2L environment via LTI 1.3
Annoto can be setup in Brightspace with LTI 1.3 dynamically or manually. It is recommended to use dynamic registration.
1.

Click on the settings icon, then click on

Manage Extensibility.

2.

From the

LTI Advantage

tab, click

Register Tool.

3.

Choose

Dynamic,

enter the Annoto registration URL, check the checkbox to

Configure Deployment

and click

Register:

4.

Input the

clientID

and

Registration Key

provided by Annoto, and click

Register

:

5.

Please notice that by default the registration is Disabled. Click on the newly created registration, enable it scroll to the bottom and click on

Save

:
6.

Click on

View Deployments

link
7.

Open the newly created deployment.
Note the deployment will have the same name as the registration.
8.

Scroll to the "

Security Settings

" section and make sure all checkboxes except "Anonymous" are enabled
8.

Under

Configuration Settings

, enable

Auto Create Grade Items

and optionally enable

Grades created by LTI will be included in Final Grade:
9.

Add Org Units

the too should be available to: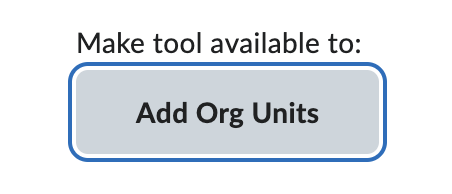 10.

Click on

Save

and the Tool will be available for usage in the select Org units.
Annoto automatically adds 3 links which can be viewed by clicking on
View Links
:
Annoto has now been registered in Brightspace and is ready for use!